About Us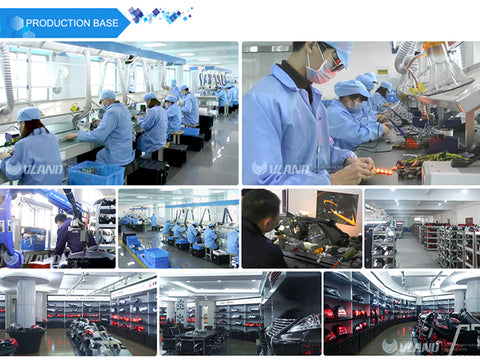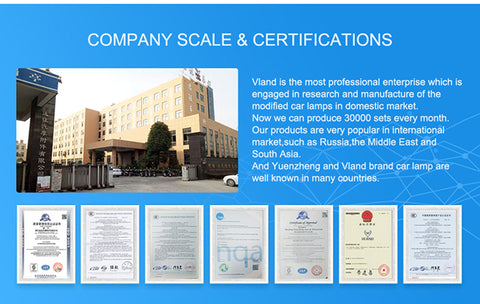 1.Introduction
Vland was founded in October 1987.  With an experience of over 30 years, Vland has proceeded to excel in providing auto and motorcycle accessories. Whether its car lights or modified headlights and taillights, one can assure that the quality is supreme.
Vland is one of the biggest auto accessory manufacturers. As one of the top 10 exporters of the automobile industry, the company is a major player in the development, production, and sale of automobile accessories. Vland settles down to propel into the auto industries. Besides a number of qualified staff professionals, we also have the best engineers in the world.
2.The Main Business
The main business of Vland Auto and Motorcycle accessories revolves around the automobile industry. To be more specific, it covers automobile accessories. They can be modified according to industry standards.
At the same time, the automobile accessories can also be custom-made to suit customers' requirements.
Among one of the prime leaders in development, production and sales of automobile accessories, our industrial park covers a massive area of 100mu with the building alone covering 70,000 sq meters.
Furthermore, we have around 4 subsidiary companies and a joint venture. This is a testimony of how strong we have developed a relationship with the automobile industry.
3.The Products & Quality
Vland Auto and Motorcycle Accessories produces high quality automobile accessories, such as car fog lamps, air filters, shift lever knobs, modified car headlights, taillights, roof boxes, car roof racks and various modifications in headlights.
Through the comprehensive quality control, all products are guaranteed to be genuine. Vland strictly controls the quality of modified car lights, ensuring all products meet a consistant quality standard and users' requirements.
We are best known for headlamps and taillamps as they are made from the finest products and are of the utmost quality, that is why these products are quite popular.
The skill and craft present in the car lights is one of the reasons why the products are exported all over the world, including the USA, Russia, Europe and the Middle East.
One of the many reasons why you can trust our company is its close association with racing clubs, car modification clubs, and auto parts distributors in different countries. The trust that comes with our products is a testimony of the excellent work we do, and it is something that we are very proud of.
4.Company's services
Our mission is to create an inspirational shopping experience for our customers. We are dedicated in providing quality services and high-quality products, which can eventually make you a returning customer.
 makes improvements not only on the products' technology and design but also on the products' packaging to meet the consumers' demands. Furthermore, Vland provides the most cost-efficient delivery service covering 200+ countries and regions, most of which enjoy free door-to-door delivery.
The car headlamps and taillamps s we develop undergo rigorous testing procedures, which include thermal testing as well as lightning testing. The entire process of developing our product has a strict protocol to receive the best results possible.
The company provides you with all the accessories that your car needs to maintain its performance. Sometimes it can be quite a job to find the parts your car needs. Now you don't need to worry as Vland offers you the finest products you possibly could find.
Vland has hundreds of car parts, including modified car headlights and taillights that can change your car's look. We offer products according to your automobile, so it makes it easier for you to choose.
The company offers you all the information regarding the price of the product you want to buy if you have any questions. We deliver the products to a fixed number of countries, and our website has reviews from all around the world. The reviews say it all.
5.Ideas & Patents of Car Lights
Vland prides itself on the fact that we have successfully passed international certifications for a lot of appearance and skill patents. The thought process behind our car lights is unique so that our ideas do not get copied easily.
Due to protecting our intellectual rights, we have passed the following international certifications:
3C Certification:
This is a compulsory certification, as it completely protects a consumer's security.
DOT:
The DOT is a medical exam and commercial motor vehicle certification.
E-Mark:
Essential for our European buyers, the E-Mark guarantees that what you buy from us is approved for safety.
6.Conclusion
Vland is not just a company that specializes in creating headlamps and taillamps. You will witness yourself that we offer more than anyone else, in terms of quality and overall experience.
Firstly, we would like to remind you that we have an experience of over 30 years in developing and selling car lights. Secondly, we have a team of highly creative and qualified engineers. They devote themself to drafting out a product that's essentially supreme.
For car and motorcycle enthusiasts, we know that modified headlights and taillights are a must. This is essentially what our team bring in.  We can bring creativity with the best quality, which will give your vehicle a look that defines you!
Meanwhile, we have an extremely dedicated support staff and the best customer service as well. Last but not least, we offer modified headlights and taillights for both cars and motorcycles. So, don't worry, we have got you covered in all areas.
Vland firmly holds the title of being in the top 10 export enterprises. Vland Auto and Motorcycle Accessories is a name that you can trust. Our products have developed a name and are time tested to perfection. Hence, you have absolutely nothing to worry about. Go ahead and contact us today if you have any question or if you are interested in a purchase.